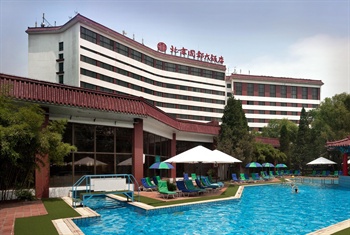 The CITIC Hotel Beijing Airport (Beijing Guodu Dafandian), formerly the Sino-Swiss Hotel, is located just a few minutes' drive from Beijing Capital International Airport, overlooking the traditional village of Xiao Tianzhu.
The hotel's Swiss Chalet restaurant serves up delicious international dishes with a focus on European cuisine and barbecue, while Chopsticks offers traditional Chinese dishes including Cantonese and Sichuan cuisine. Other flavors available include Mongolian and Japanese.
The hotel's state-of-the-art convention center and elegant banquet hall, along with the its airport location make it a convenient destination for organizing international conference and meetings.
For relaxation, guests can take a refreshing dip in the pool, or play a game of tennis, squash or billiards.